There are some weeks that the global situation feels very close, very real and very scary.  This week was one of them, and it makes me recognise how fortunate I am to live in a community where I feel safe and secure.  I have a great job, a wonderful group of friends and although my family are a long way away the powers of modern technology mean they are only a phone call away if I ever need them.  Yes, we have to contend with some natural disasters like flooding and forest fire, but it is nothing compared to what some places in the world endure.  Going through and listing out 150 things I love about Canada has truly reaffirmed my belief that it is the best country in the world for me, and the news that I can apply for Canadian citizenship sooner than anticipated makes me so happy!  I won't have to relinquish my British citizenship, which is important to me because although I haven't lived there for 8 years now, it is and will always be where I am from, my roots and my first home.
I am grateful that I have chosen to live in a country that values the great outdoors, people from all backgrounds and ethnicities and community.  These all align with my own values, and Banff  as a town exemplifies all of the above.  Within my circle I associate with people from Canada, indigenous or 2nd, 3rd or 4th generation, the USA, the UK, France, Australia, New Zealand, Czech Republic, Japan, the Phillippines, Spain, Germany and Ireland.  Whilst I wouldn't say that anyone living in the Bow Valley is affluent in a strictly financial sense, we all share a love for the outdoors and the quality of life that we can enjoy living in this place.  The vast majority of people have come to Banff for a visit, fallen in love with the place, and chosen to make it their home.
So, with renewed gratitude (very appropriate as we head towards Thanksgiving!) here are the next  "things I love about Canada", up to 72 of my #150for150…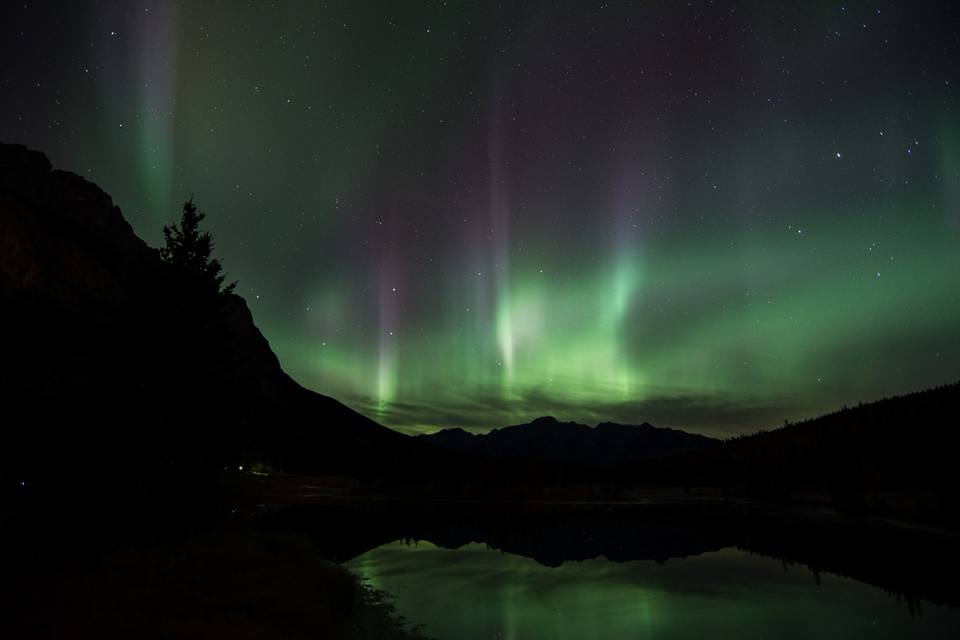 67 – NORTHERN LIGHTS
I FINALLY SAW THEM last week!  I finished work at 11:30pm and was scrolling through my newsfeed when everyone suddenly started posting pictures and updates of how good the show was!  I dragged myself out of bed, text my friend and drove down to Cascade Ponds to meet her.  I am so glad I did!  The countless nights of waiting in the freezing cold by Lake Minnwanka waiting, staring at the sky, finally paid off with an evening watching the lights dance above the ponds.
Disclaimer: they are not this vivid in real life!  My friend Isabelle did a phenomenal job of capturing the above photo of me and this one on the left.  Absolutely stunning, it's amazing what mother earth can do.
68 – MULTICULTURALISM
As mentioned in the introduction, I feel very fortunate to live in a place where people from all different backgrounds choose to live.  I've had many discussions lately about the beauty of being able to choose where you live based on the things you like to do and the people you like to spend time with.  I recognise what an incredible privilege this is, and I'm determined in the coming years to try and help those who are less fortunate than I am.  In particular I want to go to countries ravaged by natural disasters and wars the community has no say in, and try to help give them some of the enjoyment in life that I am lucky enough to have.
From indigenous creations to postmodern community piece, Canada has it's share of art.  At the moment, the Banff Centre is collaborating with Sarah Fuller to present an interactive exhibition in the national park.  This is a celebration for the Canada 150, and honours the fact that Banff National Park was created on treaty 70 land, overruling the rights of the Stoney, Blackfoot and Tsu Tina groups who had existed here for thousands of years.  The exhibit goes on to tell the stories of the human community, animals and nature that have shaped this valley.  It was truly like being in a moving art tapestry, a wonderful feat of lights and projections!
70.  PARKS CANADA
Banff National Park was the first national park created in Canada, second in the world only to Yellowstone in the USA.  Banff was signed into existence in 1885, a 1km square patch of land around the hot springs that had been discovered delegated as public land for public use.  The springs are now a national historic site, and like the national park, free to enter this year as a gift to the public from the government of Canada in celebration of Canada's 150th birthday.  The original 1km square has expanded into a huge space of 4 collective national parks; Banff, Yoho, Jasper and Kootenay.  So much pristine, untouched wilderness for us to explore!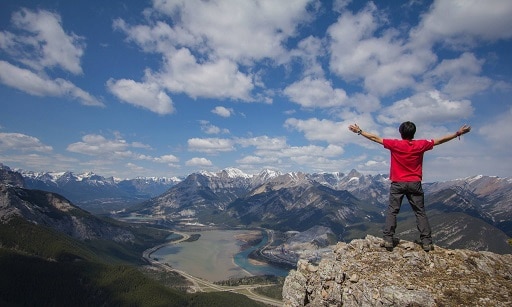 71. ATTITUDE TO LIFE
I love the Canadian attitude to life.  I don't know whether it's driven from the huge amount of space they have to share around, to the fact that it's below zero for over half the year, or the fact that the vast majority of people can draw their roots to another country or heritage,  but Canadians are incredibly relaxed, open, friendly, and believe you should work hard but balance that with a fun life and contributing to the community.  The work- life balance here is spectacular, allowing plenty of time to get outside and enjoy the many adventurous things you can do in Canada.
72.  HOCKEY
Aaaaand I would be remiss this week if I didn't include a shout out to Canada's (unofficial) national pasttime, hockey.  The season kicked off this week, so the jerseys are being pulled out of the cupboards and banter and season chat has started up within the community.  Banff's closest team is the Calgary Flames who enjoy a long standing rivalry with the other Albertan side, the Edmonton Oilers.  However, since most Canadians in Banff originally hail from out East there are a huge number of Toronto Maple Leafs and Montreal Canadiens fans in the community.  Last season most Canadian teams went to playoffs, which is an improvement on previous years.  They still didn't manage to bring the prestigious Stanley Cup back to Canada, but perhaps this will be the year the American sides get put in their place.