Most mountain tops are now clear from snow… which can only mean one thing! It's summit season!
Each time I check a hike off the list I think I add two or three more (this can be extrapolated to all outdoor pursuits – for each paddle I think of another river or lake to visit, for each backcountry hut I discover two or three more etc..)  Mount Borgeau has been on my list since I first started working at Sunshine Village and took the gondola up past it to work every day!  It's a distinctive peak visible from many parts of Banff, including Tunnel Mountain which I venture up probably 20-30 times a year!
So, without further ado, here are 6 more "things I love about Canada", bringing me up to 24 of my #150for150…
25 – SUMMITS
There's very little in this world that can compare to looking down on towering peaks from the summit of another towering peak!  Getting to the top of a mountain is a phenomenal experience, the physical attainment an almost exact manifestation of the mental effort to get there.  As Sir Edmund Hilary said, "it is not the mountain we conquer, but ourselves".
26 – WILDERNESS
When standing on the summit of a high peak in Canada, the extent of this country's vast wilderness becomes apparent.  Stretching out as far as you can see in every direction is summit after summit after summit, barely any touches of mankind to be seen at all.  It's a truly impressive and humbling feeling, one that I have felt replicated in dense woodland, open valleys and wild lakes, and one I can only imagine is just as powerful in the expanse of prairie just the other side of Calgary.  One day I'll get there to experience it myself.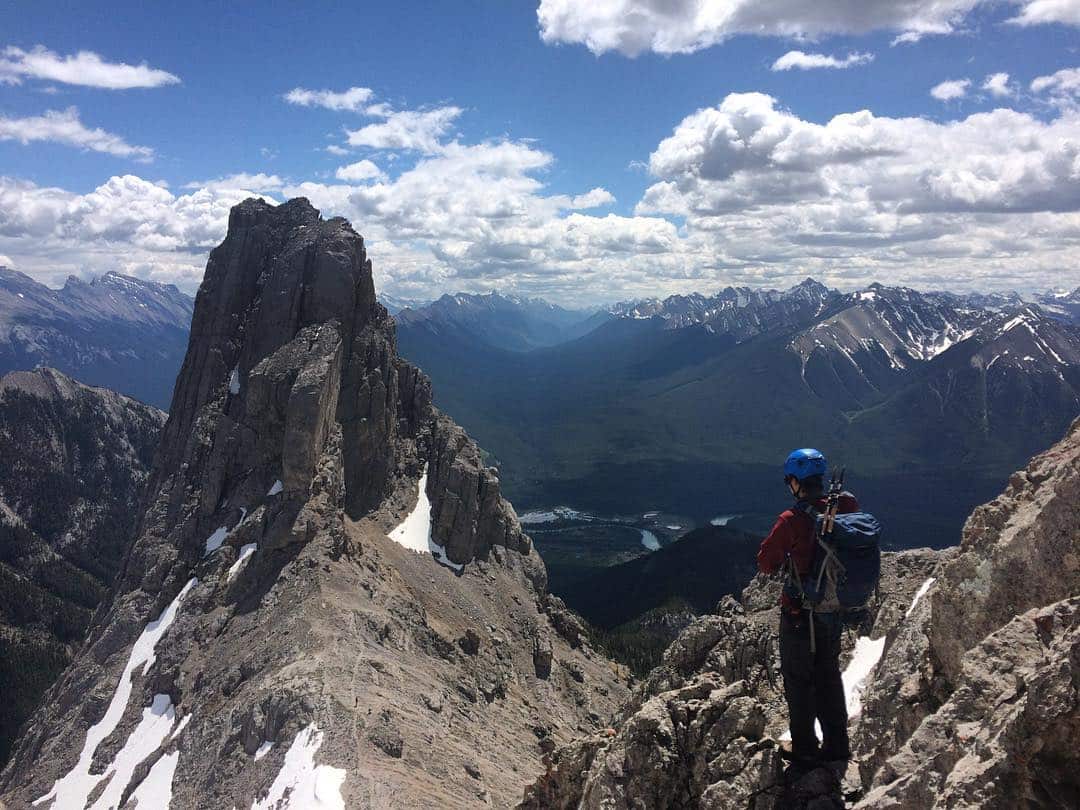 27. MARMOTS
One of my favourite creature to come across in the alpine: the marmot.  These little guys can usually be found lazily sunbathing on a large rock, soaking up the few short months of summer sun.  I remember my first experience with marmots many years ago when I was first out at Egypt Lake in the summer time, hearing this eerie whistling noise and wondering what caused it.  Learning that it came from this large, mountain badger tickled me somewhat, and it's one of the few animals I can imitate.
Hiking last weekend up to the summit of Mount Borgeau I saw probably 10-15 marmots at various stages.  We were the first party to hike Borgeau that day, and although that meant doing battle with the invisible enemy of sap strands all the way up through the forest, it did mean we were treated to a marmot party at Borgeau Lake.  I didn't photograph those ones (some of them were having a lot more fun at the party than others, and it seemed rude to intrude) but I did get this video further up:
4. HIKING
I've had a few years off from hiking, filling my time with climbing and biking and paddling, but I've really come to appreciate the incredible places you can get to on a hike that the other activities don't seem to hit.  It's an endeavour that is far more accessible to far more people, yet even in this most busy of summer seasons I'm finding that as soon as you get off the pavement and into the hills the noise and the crowd melts away as usual.  I love that hikes take you to passes that give different perspectives, for example once we got up and over Harvey Pass this weekend I was treated to a view of Sunshine Village I've never seen before.  Normally I'm on the chairlifts looking out towards Harvey Pass, it was nice to get a different view.
5. OUTDOOR GYM
I despise gyms. With a passion.  They smell bad, the equipment is confusing, it's hot, no one looks at each other, I always feel like I'm doing it wrong… but they're good for keeping in shape when the weather is miserable.  Nevertheless, stick me on a real bike or outdoors than on a stationary bike or treadmill ANY DAY OF THE WEEK!  Getting to the summit of an (almost) 3000m  mountain takes a lot of climbing.  When was the last time you hit 1500m on a stairmaster?!
Also, what goes up must come down, so you're basically working all muscle groups.  Which is why it's impossible to walk the next day.
Oh ALSO! Who needs ice baths when you have glacial lakes…. AMIRITE?!
6. SNOW IN JULY The Rocky Mountains are known globally for their excellent skiing, and it's not uncommon to get snowfall every month of the year.  It's not normal to get snow every month, every year, but I have definitely seen snow fall in both July and August, so it could happen.  So when you get into higher elevation, even though we've had many weeks of beautiful, plus 30 degree weather in the valley, up high and in the mountain shadows lingering patches of snow remain.  I got this cool shot from the mouth of a melting snow patch last weekend: