I was lucky enough to get out into the mountains for 4 days again this weekend just gone, on the Skyline trail in Jasper.  This really has been the summer that keeps on giving for me, I want to sit down and add up all the hours I spent in the great outdoors, nights spent under canvas, number lakes swam in, litres of clear stream water drank, and numbers of mountains climbed.  It's probably still less than the number of hours spent looking at screens, but it's definitely getting closer to half and half!
Skyline in Jasper is a beautiful 44km hike from Maligne Lake back to Maligne Canyon.  6 of us ventured out, splitting the trip into 3 days and 2 nights.  When I got back I had a restful day of catching up and mountain biking from my front door with friends in Banff, this weekend truly marked the end of summer despite the fact the official start to Fall is today.  We had dinner on the first night of Skyline in my first snowstorm of the year and woke up to a couple of cms dusting the ground.  I always look forward to the first snowfall, the glittering decorations changing the entire mood of the landscape and bringing with it the anticipation of another new season, winter.
46 – PTARMIGAN
I love ptarmigan – they are the alpine chickens of these majestic landscapes.  I see them probably once or twice a year, and they are always so well camouflaged they scare the lift out of me when I suddenly notice them moving a couple of metres away!  They change colour with the seasons, so the ones we saw here up on Skyline had already started to gain their white feathers in time for winter.
The most memorable Ptarmigan experience I have had to date was coming down the back side of Sentinnel Pass down into Paradise Valley a few years ago, and having one come screaming out of the woods at me!  After I'd scuttled very quickly back up the trail away from the screeching and beating of wings I noticed several tiny bundles of fluff skittering about on the trail.  The reason for the sudden Ptarmigan attack was suddenly very clear, and we delicately skirted around the protective mother and her chicks!
47. FUNNY PLACE NAMES
From indigenous names that are hard to pronounce (I'm looking at you Wenkchemna Pass) to mis-translations of indigenous names that are wildly entertaining when pronounced by Australians or Brits (yep, Lake Minnewanka, that's you) Western Canada is filled with places that you see on a map and go… "really"?
Vulcan, AB – named for the Roman god of fire but naturally evolved more recently to accommodate the inevitable influx of Star Trek tourism.
Head-Smashed-In-Buffalo-Jump, AB – home of  the world's oldest, largest, and best preserved example of native American hunting.  I'll give you two guesses what that is.
Those are just four of countless other examples – take a look at a map and you'll see so many more!
This is Lake Minnewanka (lake of the water spirits, or Minn-Waki in Cree)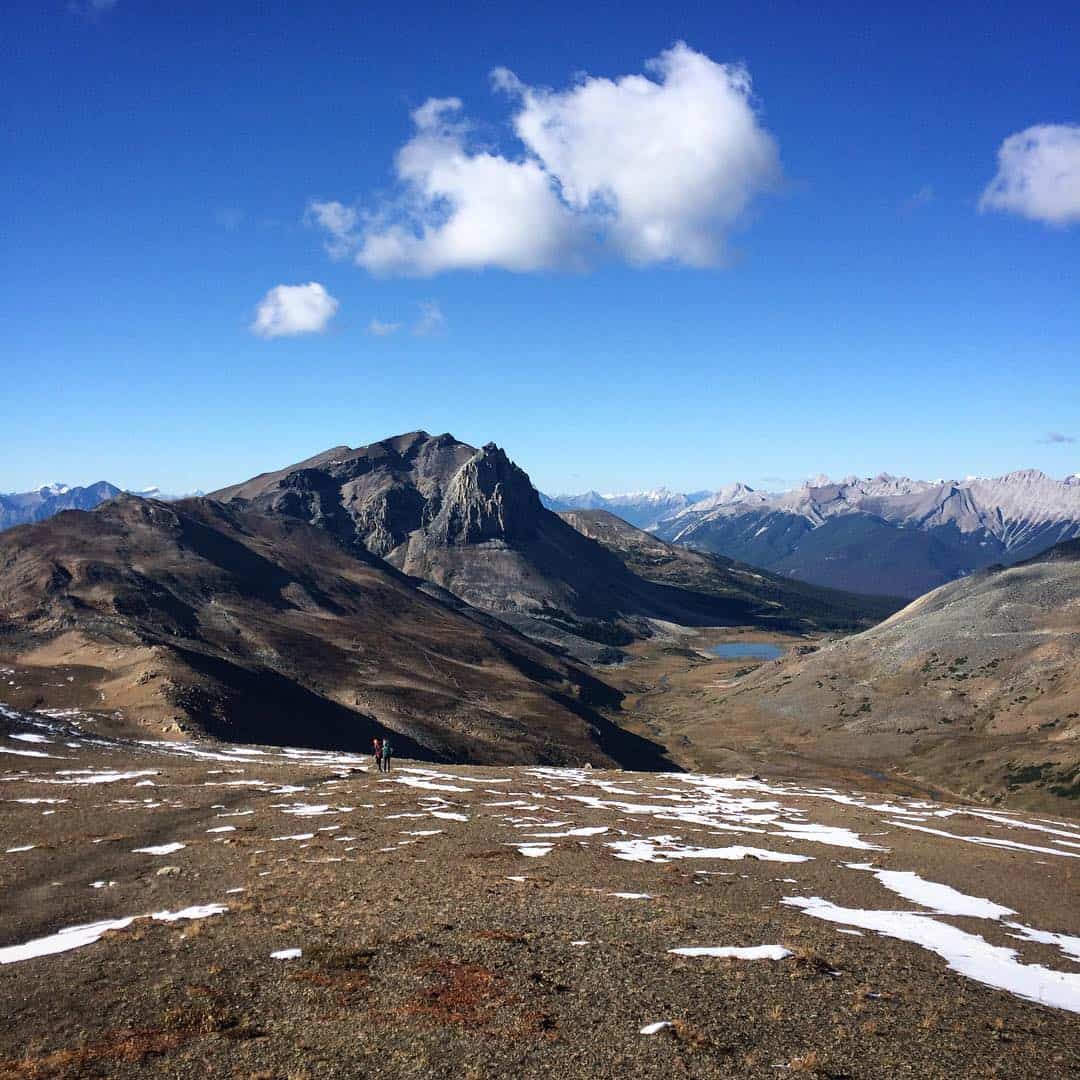 48.  MORAINES
As mentioned previously, before coming to Canada I had very limited knowledge of geography and glaicers.   When I first saw moraines I thought they were ugly piles of dirt!  But, having studied with the IGA and learnt more about how this spectacular landscape was formed I began to see the beauty in them.  Now, as we were discussing on Skyline, who says you need to have foliage in a landscape for it to be beautiful:
54. Smell of Fall
As the leaves start to fall from the trees and start to decompose in the undergrowth, once the first snow falls and the chill bite of winter creeps into the air, it creates this magical fusion of smells that are unmistakably autumnal.   This year, especially after all the smoke blown into the atmosphere by the incredible number of forest fires, the first storm cleared the air and ushered in the new season and all it's beautiful scents.  I got many lungfulls of the stuff over the weekend at Skyline, and I'm looking forward to more of the same in the coming days!
50 – HIKING
The spot one third of the way through the list has to go to a particular highlight, and that for me is hiking.  Whether it's a short 40 minute jaunt up Tunnel Mountain at lunch or after work with one of my friends, or a multi-day trek into the mountains with my life on my back, hiking makes my soul sing.  It's a combination of the exertion driving clear air through my lungs, exploring untravelled pathways, and spending time away from the hustle and bustle of everyday life.  It's become a necessity for me to get a few days away from cell service every once in a while.  Some people take a beach holiday to relax and recharge, I can't beat a few days escaping in the backcountry.
(This is my happy Alpine Wildflowers Face:)
54. Alpine Streams
Unbelievably cool, crisp and fresh, there is no better beverage to enjoy in the backcountry than filtered alpine stream water (you would probably be OK not filtering it, but I'd prefer not to chance the side order of Giardia thank you).  Once boiled it takes on the metallic taste (and hints of last night's dinner) and if you add water purification chemicals it becomes chloriney, so I love my water filter!  I need to invest in a UV pen to purify… I'll add that to my ever-lengthening list.
Asides from the incredible taste, they're really pretty: