Last week's post was a little bit of me being in denial about ski season starting and my not being there to enjoy it!  Since then, my newsfeed has been flooded with photos and videos of some epic looking early season powder days, so safe to say I'm green with envy.  I love this time of year, the beginning of winter when everyone* gets insanely excited when there's a big snowfall in anticipation of the next time they can strap skis or a board to their feet and go out and play in it.  The beginning of the season is 100% weather dependent, hence the excitement when big, puffy flakes start to fall.
This season both Norquay and Sunshine Village opened early, as I mentioned in my previous post.  Now, two weeks in and it's safe to say the ski season is truly underway.  Lake Louise welcomes the first downhill race of the season in a couple of weeks when the world comes to play, and the stoke is palpable.
Here's my ode to skiing, another 6 things for my #150for150 breaking the 100 mark bringing us to 102…
*Note there are some people that live in the Bow Valley who do not ski and snowboard, and for whom the first sign of snow heralds the beginning of 8 months of de-icing the car and walking tentatively.  This post is not for them.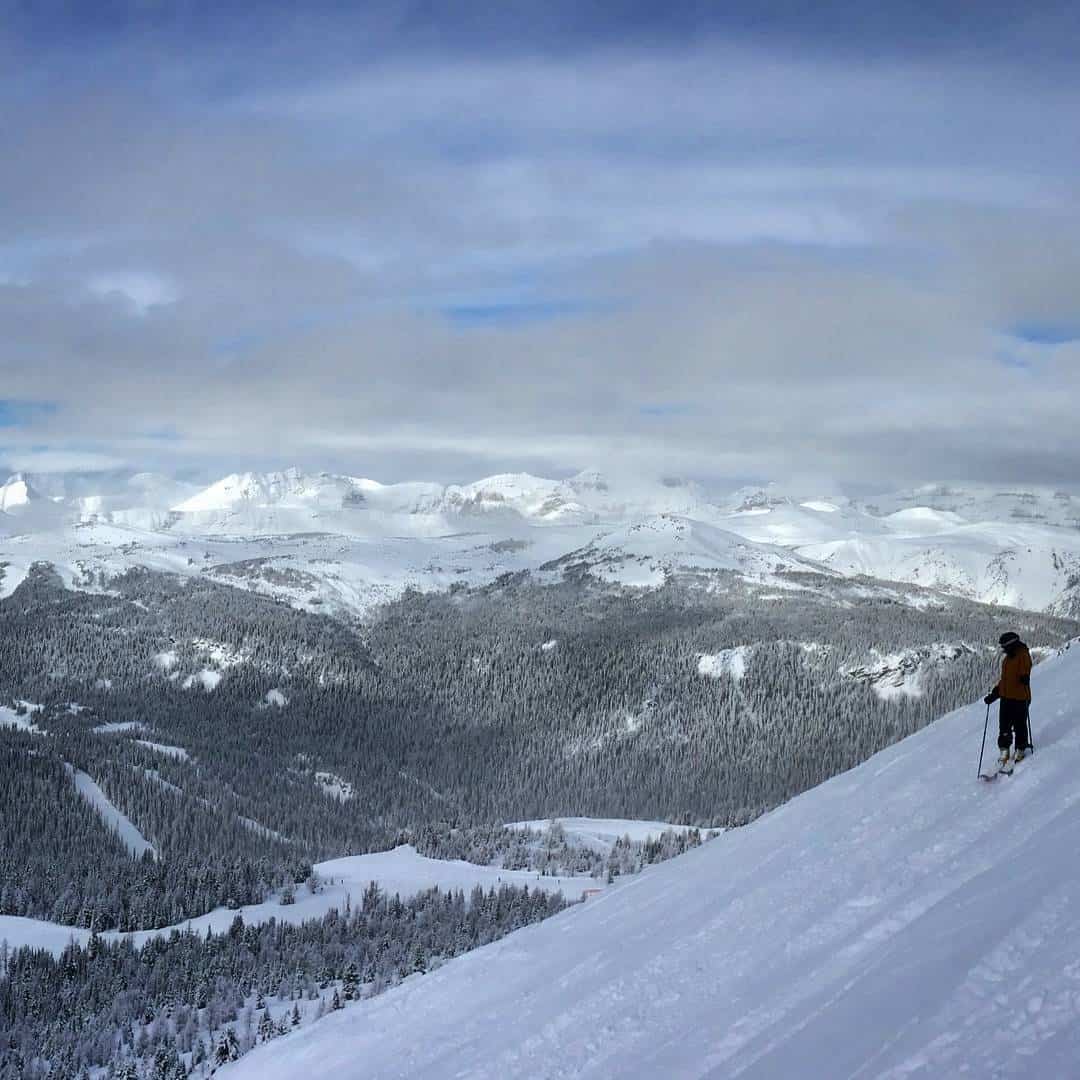 97 – SKIING
I've yet to figure out a way to put into words the feeling that is skiing, but I do like this which I've taken from an article that appeared in Powder last year:
Skiing: "where nothing in the universe matters, your problems dissolve, dreams become real, and you glide over long aspen shadows—immortal, impervious—a cynosure careless, all hope and desire."
There are so many facets to skiing that I love I will try and do justice to each one in turn.
98 – POWDER
Once you've experienced the delicious thrill of floating through perfect powder.. no, not floating, flying, because that's really what it's like… there is no turning back.  It's an addiction, a constant quest to feel that way again.  Charging down immaculately groomed runs with the spectacular mountain backdrop spread out before you is fantastic, and a blissful way to spend time with your friends.  Ducking and diving through trees like you're in a video game or on an obstacle course is fun too.  I've also developed a strange affection for the challenge mogul skiing which I never previously understood.
But perfect powder is really where it's at.
99- SKI TOURING
A natural progression in the quest for untracked, perfect powder, is to get out and put in a bit of effort beyond lift accessed stuff.  Now, this is not for the ill prepared, it is imperative that you don't only invest in the gear to get going but also invest in your own knowledge.  There are tonnes of courses available, but my recommendation would be to try and get onto a course with MTN Guiding.  They know the area and they really know their stuff.  Better yet, book one of them to take you and some friends to get your first feel for the sport and see if it's for you.
I have been lucky enough to have some great friends with excellent skills to show me the ropes.  Last year I completed my first glacier traverse which had been on my bucket list for many years.  To me, ski touring combines two of my favourite activities: hiking and skiing.  I don't especially enjoy hiking down hill, so being able to get in some sweet turns at the end of a day hike is just fabulous.
100. DELIRIUM DIVE & THE WILD WEST
Sunshine Village boasts two phenomenal areas of extreme skiing, and I've skied at this resort far more often than I have Lake Louise so I know it better.  Each year the cries of "is the Dive open yet" start being yelled at the hard working ski patrollers from the first day the lifts start spinning.  The crew in red spend their days patrolling the mountains, making sure the pistes are safe to ride, and this includes prepping these insane areas and trying to get the snow to stick.
Once open, there is little terrain that can compete in terms of extreme fun.  Living up to it's double black diamond rating, the majority of the entrance choices involve a mandatory drop, falling away into a series of chutes which funnel into cliff bands you have to weave yourself between before enjoying the beautiful powder bowls at the bottom.  Fun, right?
101. BANFF
I've realised that in all these blogs I've yet to actually write about the wonderful town I've called home these past 8 years.
Banff.
Beautiful Banff, truly at it's sparkling best when covered in white snow, glittering in the sunlight or from the reams of Christmas lights strung from street lamps.  It's a real life winter wonderland, a winter haven for skiers, snowboarders, and lovers of mountains in all seasons.
It's also the perfect setting for that other enjoyable part of skiing, the aprés.
02 – APRES SKI
Reminiscing about the best runs of the day, the epic bails, rad tricks and new areas of the mountain you've discovered are an integral part of a stellar day of skiing.  The taste of a cold beer at the end of a solid 8 hours of skiing cannot be beaten, and enjoying the company of those you've shared these experiences with is the perfect way to finish off the day.
I confess there have been a number of days where one pint turned into many and you end up going home late in the evening still wearing your ski gear, but that's all part of the charm.  With it's numerous bars, restaurants and homey pubs, Banff is well set up to enjoy an evening of apres ski.