This week's FEATURED TOUR
Mountain Mindfulness: Stanley Glacier Hike
Changing our brain setting from Automatic Pilot to Awareness.  It is going from Mindlessness to awareness of our world around us and our thoughts and actions.  We want to make our thoughts and actions fit with our values and goals in life.
Mindfulness originated in philosophy with the intent to embrace a way of being present in the world. Mindfulness means to be aware of what is happening in our present experiences, observing with compassion, insight and intention to create joy.
Mindfulness helps us to: strengthen inner peace, prevent stress, sharpen our senses and see clearly what is happening, avoid falling into the trap of reacting unconsciously, and to be fully present.
​
For this week's feature tour we are going to focus on the hike Mountain Mindfulness are hosting this week: Stanley Glacier Guided Day Hike: Guideposts to Joy
It's a guided hike to the stunning Stanley Glacier, all the while learning practises and techniques to improve mindfulness and connect to the earth
What's included?
Day guided hike and mindful practises
"We would love to have someone wave a magic wand and in an instant our life would become satisfying and full of joy.   It requires, however, a lot of thought and hard work, both in Mindful thinking and Mindful behavior.  We can't do it on automatic pilot.  We need to be purposeful and intentional in what we THINK and DO.  We build a life worth living one step at a time."
Carol Lapointe, Mountain Mindfulness
About Carol
Carol is an individual and group therapist who has been leading a Mindfulness based group program since 2000. Recently retired, she worked as an individual group therapist and psychiatric nurse for over 35 years.  She loves being part of people's growth towards having a better quality of life. She currently spends most of her time with her grandkids or her husband as they venture into the wilderness.  The mountains have always called to her.  She decided it was time to take the Mindfulness skills out of the therapy room and into the Mountains, hence, the birth of
​Mountain Mindfulness.
About Michelle
The mountains are a place of balance, energy and passion for Michelle.  She finds freedom by moving in the mountains. She currently resides in Canmore, AB.  ​Michelle is a teacher and Association of Canadian Mountain certified Hiking Guide. She enjoys guiding groups and youth outdoors on both day and backpacking trips.  Her favourite part is fostering appreciation for nature and setting people up for success.  In her free time she competes as a national Ski Mo athlete.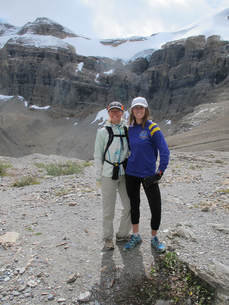 More tours running this summer: