Although summer is well and truly underway, Calgary Stampede kicks things up another notch or 5!  "The Greatest Show on Earth" lives up to it's hype and draws Cowpeople from all corners of the earth for 10 days of rodeo, chuck-wagon racing, calf roping, barrel racing, fairground rides, weird and wonderful food, live music and a thigh-slapping good time (and no, I didn't have a clue what most of those things were before I moved to Canada!)!  The energy seeps into Calgary and the surrounding area, and people visiting Stampede often come out to the mountains whilst they are here.  The city calls itself the "Heart of the New West" and with it's history of cattle ranches and horseback exploration it's not hard to see why!
Many of this week's instalment of #150for150 are things I consider incredibly Canadian, and not things I forsaw myself enjoying growing up in the UK!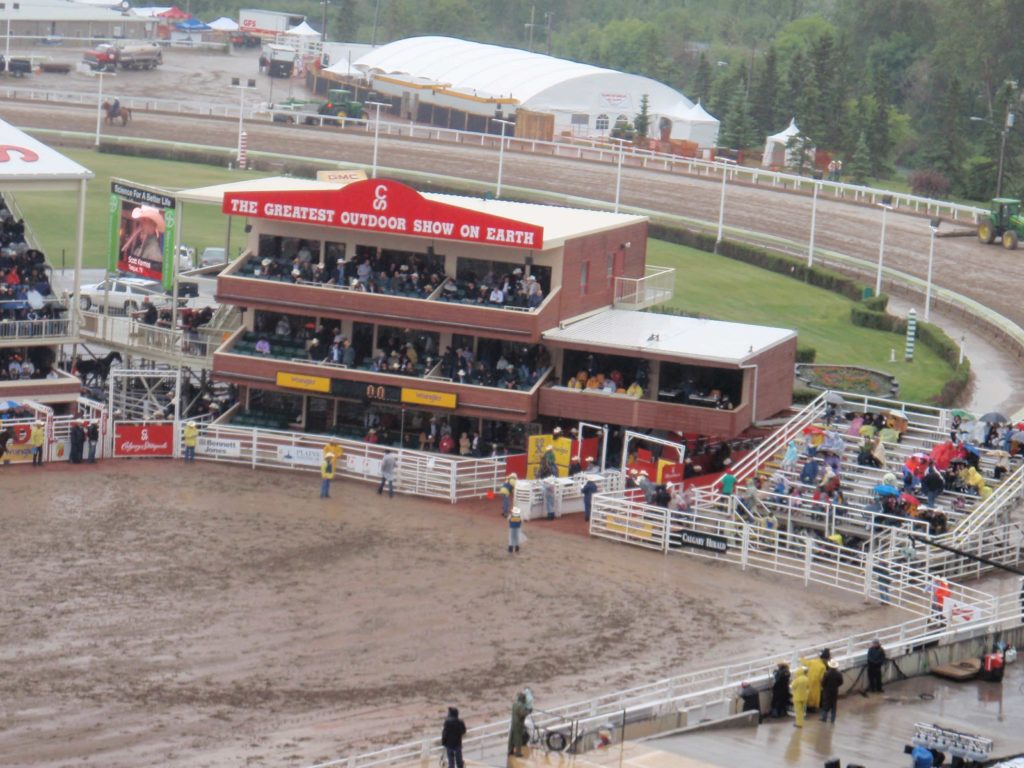 13 – CALGARY STAMPEDE
"The Greatest Show On Earth" (a title which makes me think of one of my favourite books growing up) the Stampede is basically Disneyland for Cowboys.  The first time I went was 2010 and it was true cultural awakening.  I mean, who knew they manufactured shower caps specially for cowboy hats?!
Personally I don't have much interest in the rodeo or calf roping, but I thoroughly enjoyed the chuck wagon races!  These are full on "Little House on the Prairie" style wagons racing around a track.  Barrel racing is also fun – it's 2 ladies pitched against each other racing their horses in figure 8s around barrels (see Brokeback Mountain for an example).
Asides from the cowboy based entertainment there is more live music, food trucks and weird food than you can shake a stick at.  From the traditional Caesar to this year's feature: Deep Fried Mars Bars (clearly they've never been to Scotland) there is all sorts to keep you occupied for days.
14. CAESARS
Created in Calgary in 1969 according to Wikipedia, and it's essentially a better version of a bloody Mary made with Clamato juice instead of tomato juice (yes, this is tomato juice with added clam extract.  Quite how you extract essence of clam I'm not sure but it doesn't really bear thinking about).
Funny story: I actually experienced my first Caesar in Puebla, Mexico, in 2008 where they claimed it was their traditional drink.  It was my first night in the country as a naive 20 year old, and it came in a pint glass with ACTUAL CLAMS at the bottom.  Bearing in mind that Puebla is not exactly close to the ocean and Mexico is not renowned for it's food safety… much of my first week in a strange foreign land was thus spent ouking in my apartment.  Fun times.
Since being in Canada, I finally developed a taste for a Caesar about 2 years ago.  It didn't appeal to my palette prior to that (thanks Mexico), so I'm putting it down to being something that comes when you get your Permanent Residency card or something…
15 – SOFTBALL
As it's fundamentally similar to rounders, I figured I'd be alright at softball.  After falling flat on my back in week one, and hitting myself in the face with the ball in week two, I can confirm this is not, in fact, the case.  Still, following the early mishaps I have managed to play a few weeks without injuring myself and have even managed to hit a couple of good balls along the way.  It's great playing in a team sport, it's definitely something of a Canadian summer institution!  Leagues run in Banff and Canmore on Sundays and Thursdays and they are a true family activity.
Not a bad setting either!
16. LIVE MUSIC
For a small town, Banff has it's fair share of amazing artists passing through, This weekend we had Corb Lund at the Banff Centre (see video) and Five Alarm Funk at Wild Bills.  I never thought I'd enjoy Country Music, but apparently that is also something that you get along with your PR Card (see: Caesars)
Canada has quite the burgeoning live music scene with more and more wonderful artists popping up year by year.  Earlier this year we had Walk off the Earth at Performance in the Park, and Garth Brooks is coming to Calgary later this year (it was announced this week and is already causing a ruckus)  Blue Rodeo, a Tribe Called Red, Alt – J, Bishop Briggs, a Spice Girls tribute band… I tell you the talent is never ending..!
17. BANFF CENTRE
Located up on Tunnel Mountain, a 10 minute walk outside of the downtown hub, the Banff Centre for Arts and Creativity is a perfect centre for creative minds and artists to spend some time.  They often have artists in residence, and if you're looking for a more cerebral way to spend the evening check out one of their opera or theatre nights.
For quality entertainment there is really no rival in Banff.  It's the quiet giant on the mountaintop.  If you are outside the bubble it's easy to not be aware of its existence, but with touring productions like the Banff Mountain Film & Book Festival which now travels to over 50 countries around the globe it is quickly building a global reputation.
18. RYE WHISKEY
Growing up in the UK I was introduced to single malt scotch as being the only form of whiskey one should allow to pass one's lips.  Confession: I love Rye Whiskey!  It's sweeter, smoother, and goes exceptionally well with the smoky scent of campfire.  It's also a great sing along (see above video) and makes for a happy go lucky kind of drunk.
Canadian Club is definitely not the only kind available, contrary to what's available outside of Canada.  I'm enjoying a particularly good Gibson's special edition for Canada 150.