Parks Canada Reservations for this summer at Lake O'Hara open next week, and if you haven't already heard of it that's probably because it's the most exclusive area of Yoho.  The stars really have to align to enable you to enjoy it whilst you're visiting on vacation.
That being said, Lake O'Hara absolutely has to be on your summer vacation plan if you're in the area for more than 4 days, and we'll tell you how to make it happen.
First things first: PLAN AHEAD!
There are a few different ways to get yourself to O'Hara, and each one has a different time frame you need to work with.
2.  Elizabeth Parker Hut
(Photo above)
Owned and operated by the hyperbole-deserving Alpine Club of Canada, you can enter a lottery this autumn for stays starting in June 2020. You have to pay a fee to enter the lottery and then you have a window to pay for the stay if you're successful.
If you're an experienced hiker and game for a final slog of 300m of steep scree, you can also book spots at the Abbott Hut, once they finish stabilizing it after a rock slide last year.  There are no reservations for 2019, but hopefully the slope remediation means it'll reopen for 2020.. Watch this space.
Cost: $45 per night for Elizabeth Parker hut
3.  Lake O'Hara Campground
Run by Parks Canada, the reservation window for the campsites and bus service opens 3 months TO THE DATE of when you want to stay, starting April 23.  So, if you have dates in mind, mark the date 90 days before and be ready at your computer / phone right at 8am MST ready to queue up for tickets.  If you're flexible on dates and miss out you can try again the next day…. and the next day… etc etc.  Generally speaking the 30 campsites are sold out by 10am.
If you miss out on booking your preferred dates when they go on sale you can check for cancellations here as your trip gets closer.  Who knows, maybe there will be a cancellation and you'll get lucky!
Campsite Cost: $11.70 per site
Bus Cost:
$4.50 per person if you book online
$6.75 per person if you book via telephone
$11.50 for groups of 3 or more (it pays to have friends!)
1. Lake O'Hara Lodge
(Photo above)
These exclusive cabins are probably already on your Pinterest board, and I bet you've liked the pics on Instagram more times than you know.  If you want to score a bed at the lodge, call NOW to put your name on the list for next year.  The more flexible you are with dates, the more likely you are to win a spot.  They'll send you a letter around Christmas time to let you know if you've been lucky enough to get a reservation… a Happy Christmas present to you indeed.
Oh, and the price tag?  It's one of those "If you have to ask" things.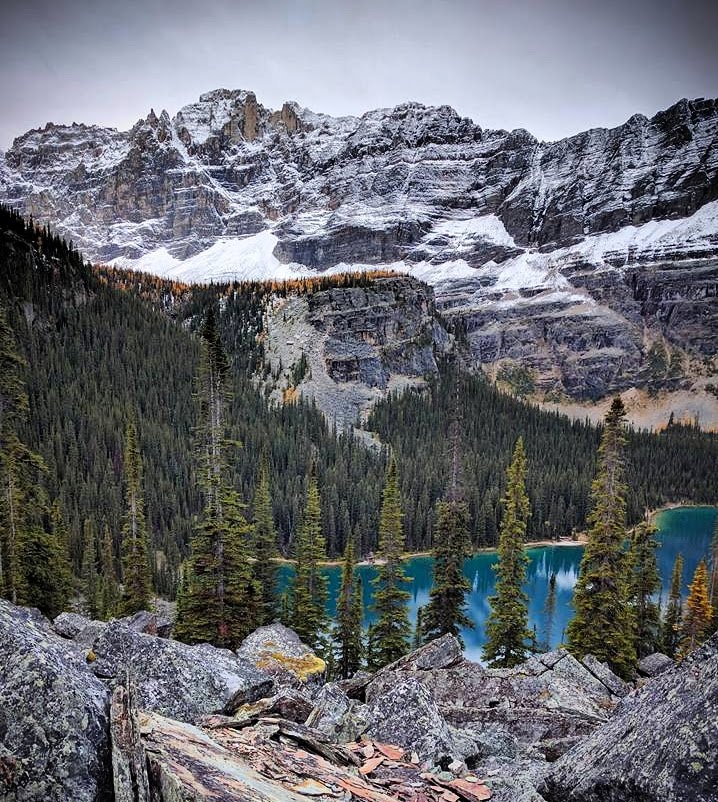 4.  Day use bus service
This is the same reservation page as for the campsites, but is for bus only.  Again, competition is fierce and in my opinion if you're going to queue up for a reservation you're better off getting a camp site and staying a few days to explore this beautiful area.  To access Lake O'Hara the bus follows an 11.9km fire road.  This isn't the most fun to hike, but if you can't get on to a bus going up it will get you there, even if only for a couple of hours.  If you take some cash ($9.75) then you should be able to hop onto a bus going back down when you're ready to head home.
5. Contact us to book onto a Guided tour
Parks Canada allocates a small number of bus spaces for commercial permits each day for guides.  If you know when you want to go, Contact us  and we can help you book one of our local, accredited, awesome guides!
IN SUMMARY
It's not the easiest to get to, but you will not regret it!