As the year 2017 draws to a close I'm taking a pause from the #150for150 and taking an indulgent look back at the most incredible year of adventuring.
From Assinniboine to the Wapta and everything in between, here's a quick look back on some highlights from 2017:
Wapta Traverse
5 people, 4 days, 3 huts, 2 days of whiteout, 1 peka eviction…0 crevasse rescues.  An adventure of epic proportions!  I had wanted to complete a glacier traverse for many years and 2017 was the year I got to check that off the list.
The first two days were spectacularly sunny, and we somehow had the whole of Bow Hut to ourselves on the  first night!  With the exception of one very freaked out peka…
The snow set in for the last two days, but our expert navigators got us through the crevasses with no trouble, and we dug ourselves in to the hut for the final night.
Looking forward to more training, ski touring and fun times in the year ahead.
Tonquin Valley
Meeting in Jasper on a Friday night and hitting the trails early on the Saturday morning, we reached Amethyst lake in the early afternoon and enjoyed a couple of hours swimming in the lake before the mosquitoes descended!  We were then treated to the most spectacular sunset, feeling very small surrounded by the giants of the ramparts.
The hike out was eventful with a few swollen river crossings to content with.  I had an encounter with quick mud on the Saturday, sinking all the way up to one knee and laughing hysterically for about 10 minutes!  My hiking partner endured very wet feet on the way back to the car, courtesy of the river crossings and bridge outages.
I still can't believe we squeezed this  40km adventure into 2 days, spending just one day at the halfway point at Amethyst Lake and arriving in a short window where there was no one else at the lake and mosquitoes were taking a breather!  Getting to enjoy our own private, alpine beach,, sipping on lake cooled ciders, is one of my absolute highlights of 2017!  It was one of those times where the torment of the worst mosquitoes I've ever endured actually makes the experience even more special in hindsight!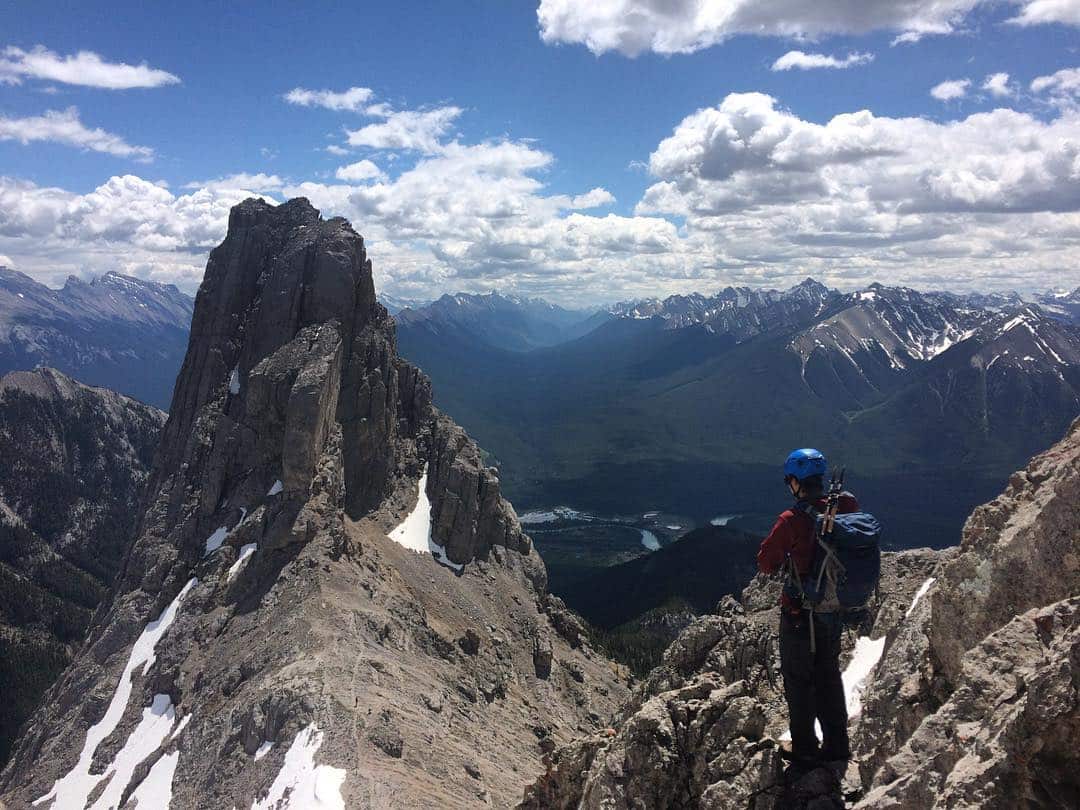 Mount Edith
NOT the Edith Cavell at the foot of the Tonquin Valley, rather a hidden peak on Banff's doorstep.  Surrounded by Mounts Corey, Louis and Norqay, we multi-sported the heck out of this in one day.  Leaving Banff at 7am, we cycled 10km out to the trailhead, reached Corey Pass in an hour and a bit, and then began the ascents to Edith's 3 peaks.  This was a day that thrilled, terrified and exhausted me, a perfect day out!  We had to do a decent amount of route finding, and some of the scrambling was more challenging and exposed than any I've had to do.
Biking back into town on completion of the 3 peaks was wholly necessary – I think if I had got into the car my muscles would have seized and I would have been stuck there! Barpa burger to complete the day.
Assinniboine
This year was a big birthday year for me, hitting 30 in February.   My wonderful friends and colleagues gifted me a helicopter ride into Mount Assinniboine, and together we lucked out by booking a weekend that managed to fall in the window between two forest fire closures.
I was unlucky injuring myself in a VERY minor but VERY inopportunely placed gash on me heel the week before we flew.  As such I was unable to hike as high or as far as some of the others but the trip was in no way negatively impacted.  The campsite at Assinniboine is one of the most beautiful I have ever had the pleasure of visiting, and we were treated to some stunning sunrises and sunsets.  Everyone else hiked out on the last day, but I thought 29km and a dodgy foot with a full backpack probably wasn't that sensible, so I did an easy day hike (chalking up my first ever solo backcountry hike) and flew out later in the day.
SKYLINE
Cold…snowy…crunchy.. cold… Skyline in late September was always going to be a bit hit – or – miss, but we braved the cold and had an incredible 3 – day adventure up in the alpine.  360 degree views, ptarmigan, frozen alpine streams, beautiful campgrounds and great company.
SO that's my very brief summary of an epic 2017!  Thank you for following the adventure here at GuideMe, and I look forward to bringing you many more in the next 365 days!  Happy Trails